Choice Sector
Government Response
Government Response

Experience
Paul Whitmore is the President of Choice Sector, LLC. Paul has been in the industry for 18 years including working on both the Insurance Carrier and Independent adjusting space. Paul brings his 14+ years' experience of managing large scale Catastrophe events to the Government Disaster Relief space. In past positions, Paul oversaw the inside and outside operations on 50,000+ Daily and Catastrophic claims yearly. His experience includes direct oversight of 20,000+ claims during Hurricane Irene and Sandy.
Scope of Work
Helping to put the pieces back together
Program Administration/Management
Effective planning, organizing, staffing, managing, technology implementation and program control.
Property Damage Inspections
Residential and commercial property damage verification; estimation of repairs and replacements in accordance with HUB standards.
Call Center and Document Processing
Centralized intake, information dissemination, secure applicant/claimant data collection, reporting and analytics.
Data Management & Process Improvement
Data warehousing, process documentation and improvement and web based workflow tools.
Key Benefits
Choice Solutions provides a partnership to secure government housing management services to assist state and local governments with both emergency response and long term recovery activities.
Choice's management team has proven performance capacity in providing staffing solutions and services for Housing and Urban Development regulated and state run Community Development Block Grant (CDBG) disaster recovery housing programs and Hazard Mitigation Grant Programs.
Choice understands the importance of our role in the administration of a disaster recovery program and the transparency required to ensure that those being assisted receive a professional, efficient and effective delivery of service.
Experience
New – York rising program
Managed staffing for over 12,000 damaged assessments. Helped create and manage Quality Control programs.
RENEW JERSEY STRONGER PROGRAM
Managed staffing for over 5,000 damage assessments. Managed staffing for over 10,000 written estimates
BP DEEPWATER HORIZON OIL SPILL
Managed staffing for over 32 field managers and over 900 field staff. Helped establish and maintain guideline for BP
Baton Rouge
Deployed and trained 30+ damage assessors across Louisiana. Staffed and trained QC positions within our Partner Client's offices.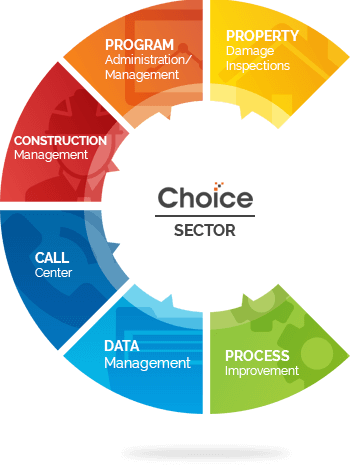 PLAN, INSPECT & MANAGE
Choice Sector
Choice Government Response Team provides staffing solutions for
Housing and Urban Development (HUD) regulated
and
state run Community Development Block Grant (CDBG)
disaster recovery housing programs and
Hazard Mitigation Grant Programs
.
Dynamically Leading programs by providing personnel for:
Large loss inspections
Final inspections
Call center
Scheduling

Initial site inspections
Scope processing
Data Entry